Start your business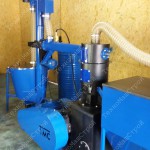 Start your business with a mini granulation line MLG-1000
Why is it so difficult in our time to do business, especially manufacturing? There are a number of reasons:
High tariffs for electricity;
Large waste disposal costs;
Narrow profile of equipment;
High rental costs.
We analyzed all these factors, which recently became a scourge of the Ukrainian economy and launched a mini line for the production of pellets and granulated mixed fodder MLG-1000. A new technology for the production of pellets involves moistening the mixture, cooling the pellets and sorting them.
Press granulator, which enters the mini line, is supplemented with movable rollers. You get high performance (up to 1 ton of products per hour) and high power!
The production of pellets and feed is now fully automatic. In the kit there is a remote control, with the help of which the whole process is regulated.
Incredible savings on the granulation line

First, let's talk about what includes IPF-1000:

Granulator pellets and feeds with a capacity of 11 and 21 kW (you can choose)
Bunker with auger of exact loading 1.5 kW
Humidification device 1.1 kW
Cooling and sorting device 0.5 kW
Cyclone - exhaust system 4 kW
Such energy inputs for powerful complex equipment for the production of pellets are simply scanty. Another nice news is that the dimensions of the mini granulation line allow it to be installed even in a garage room - a good saving of money for renting a room. For the production of mixed fodder and fuel pellets you do not need a production department.

Wide directivity МЛГ-1000

What products can be obtained on the mini granulation line MLG-1000:

Wood pellets (eurodrova);
Pellets of mixed fodder;
Pellets from grass;
Pellets of sunflower seeds;
Pellets from hay and straw;
Pellets made of plastic.

Thus, pellet production extends to several spheres of the economy: animal husbandry (mixed fodder for large, medium, small animals, all kinds of poultry and fish), agro-industry (pellets from biomass, pellets for compost, etc.), heat power (fuel pellets for boilers ).

You save on transportation and storage, waste disposal. The payback period is very fast, after all the pellets are ready for sale right after production!

Pleases and the equipment for pellets production price. You will be pleased not only with the cost of mobile equipment of our company, on the mini line of granulation also the squat prices also act. We will give you the lowest price in the market so that everyone can launch their own project.